BOMBER MEMORIAL

Robin DeJONG ~ Class of 1966
April 29, 1948 - July 7, 2016


~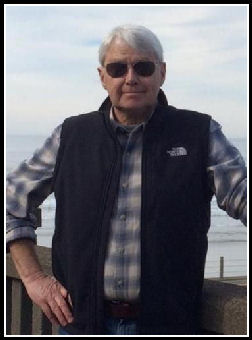 Robin was born April 29, 1948, to Rudolph and Mary Ann DeJong in Richland, joining his brothers Norman ('60) and Lamont ('63).

He passed away in Portland, Oregon on Thursday, July 7, 2016.

Robin attended Jefferson Elementary School, Chief Joseph Junior High School and graduated from Columbia High School (now known as Richland High School) in 1966.

He enjoyed growing up in Richland and exploring the rivers and desert around the Tri-Cities. He was a gifted art student and retained his interest in art and architecture throughout his life. He attended Columbia Basin College and Brigham Young University, majoring in archaeology (B.A. 1971) and woking on the Anasazi archaeological digs along the San Juan River in the Four Corners area of Utah.

After graduation, he worked summers for the U.S. Forest Service and winters working and skiing in Park City, Utah.

He whitewater rafted the rivers of the West with his brother Norman ('60).

He began his 34-year career with the U.S. Forest Service when he joined his brother Lamont ('63) on the Gifford Pinchot National Forest in 1967. This began his love for the forest and his interest in engineering.

In 1998 he received his Bachelor of Civil Engineering degree from Portland State University. He served with the forest service as a geotechnical engineer, was an aquatic organism master design engineer for Region 6, served as contracting officer's representative (COR) for many Emergency Relief for Federally Owned Roads (ERFO) damage repairs from 1995 to 2012 and coordinated all trail and road bridge inspections from 1998 to 2012.

After the eruption of Mount St. Helens he worked on many projects on the Monument including serving as COR on the Eruption Trail at Johnston Ridge and as point of contact for maintenance of the Spirit Lake Tunnel.

In 1999 he married Mari Jilbert. They enjoyed 17 years hiking, camping, traveling, antiquing, working on their house and spending time with family and friends.

Robin was an adventurous traveler. He hitchhiked to Panama, spent time in Mexico, Hawaii and Europe, took road trips to the Southwest and across the U.S. and Canada, and visited Peru and Bhutan.

He will be greatly missed by his wife Mari Jilbert; brothers Norman DeJong ('60) and Lamont DeJong ('63); their wives Melanie DeJong and Carolyn Roe DeJong ('63); nephews, Michael "Mick" Hokanson and wife, Emily Hokanson and Christopher DeJong; nieces, Kendal DeJong, Johanna DeJong and Hettie DeJong; great-nephews, Rustyn Yazdanpour, Ethan Troy Wright, Garrett DeJong and AJ Hokanson; and great-nieces, Melanie Truelove, Soraya Yazdanpour and Emily Jane Wright.

He was preceded in death by his parents and nephew Matthew Wayne DeJong.

A celebration of life was held at noon Saturday, July 23, 2016, at the Red Cross Building at Fort Vancouver, 605 Barnes Road, Vancouver.

In lieu of flowers, please make a donation to the Oregon Food Bank.

Guest Book.

Published in The Oregonian from July 15 to July 17, 2016.


Bomber Memorial put together by Shirley COLLINGS Haskins ('66).